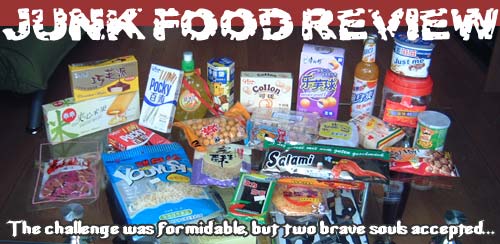 Have you seen some of the snacks sold in China? Would you dare try some of those snacks? You don't have to, thanks to junk food reviewers John and Wilson (in Hangzhou).
Leave a comment.
If you enjoyed this, don't miss Junk Food Review 2!
1. Salami

Supposedly this stuff is "salami" but it looked a lot like beef jerky to us.

I like how it pretends to be a
different kind of "meat" than it is.
But this is just way too
much pretending.
Dry and cardboard-like.

2. Peppermint Plums

These are sweetened, flavored plums. Yes, they taste like peppermint. I guess they'd be more accurately called "prunes" when they come like this.

These are definitely weird but I just kept popping them… Watch out for the pits.
Minty, sweet, sour. Three in one!

3. Dried Squid

Take squid and dry it. Then shred it. Then seal it in bag, and that's what we have here. (The question is, why is there a fish with arms on the bag…?)

Tough and tangy. I don't know
why I like it. I think a part of me
doesn't, but I still finished the bag after
the review was over.
When you like to eat seafood
and like the smell of fish…

4. Thin Crisp Seaweed

This is the stuff that goes around sushi. Before it comes into contact with rice, though, it's nice and crisp. If the Chinese don't have sushi, what do they do with this stuff?

This stuff is great! It's like
the cookie dough of sushi or something.
I think you're supposed to eat it
with rice. Oh well.
Reminds me of sushi
without the "sushi."

5. Crazy Fried Peanuts

Whoever came up with this was a MADman – fried peanut treat with both spicy and sweet seasoning.

You don't put hot sauce
on M&M's, and you don't make
peanuts spicy and sweet.
This is nasty.
Hot, spicy, sweet.
Strange, but still peanuts.

6. Honey Almonds

Almonds in a slightly sticky, heavenly honey glaze. (They're not cheap, though, at about 40rmb (US$5) a jar.)

Good, good, good!
Delicious and addictive.
The "popcorn" for my movie night.

7. Butter Rice Pies

Wilson was enticed by the English advertising on the box. "Try it!" it called out to him. And so it found its way into the review.

I'm just barely on the
"good" side here. Not as bad
as I expected, but I don't think I'd
buy them again.
Dry, with a sticky texture like taffy.

8. "Just Me" Chocolate Bites

Chocolate covered oatmeal snacks. Kinda expensive, though, at 8rmb (US$1) for a very small container of them.

Luckily I got to try one
of these before Wilson demolished them all.
They were awesome!
Better than "excellent" —
gone within 2 minutes!

9. Mister Potato Crisps

Yup, they're pretty much just the Chinese version of Pringles. But how good??

Great chips, but where's my
chalky salt MSG seasoning??
Pringles without the overly
chalky salt, MSG seasoning.

10. Big Rice Cake

This is pretty much the quintessential Chinese snack, so we had to pick up at least one.

You just shouldn't make
fried rice snacks. There's just something
not good about them.
Fried rice in a convenient package.

11. SSS Carrot Juice

Chinese carrot juice in a bottle with a pull-off top. Who'da thunk it? It had to be sampled.

Nasty, nasty, nasty.
Ugh!

12. Mango Juice

Mango juice with a convenient neck strap. Finally, tropical juice refreshment and casual style have been united!

Is there any
real juice in here
at all?
Viiiile.