---
Get Sinosplice Tooltips from the WordPress Plugin Directory
by John Pasden
08

Oct 2010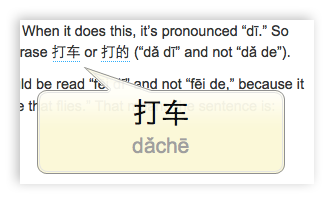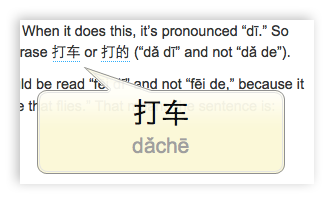 The Sinosplice Tooltips WordPress Plugin is now downloadable from the public WordPress Plugin Directory. I'm not sure why it doesn't yet show up in searches (either on through WordPress site, or through the WP admin plugin section), but you can still download and install it. I'd like to thank Andy Warmack, the developer, for his time and dedication to making this plugin happen and helping me to provide it for free.
And now a little bit of clarification on what the plugin does, for those that are interested.
What the plugin does:
– Adds the CSS and javascript to create attractive tooltips for Chinese like this: 中文
– Adds a quicktag to the HTML mode of the WordPress post editor, allowing you to add tooltip content as easily as you add a link
– Provides settings so that you can control the color and content (to a limited degree) of the tooltip
– Adds tooltip data into your post HTML in a standards-compliant way that degrades gracefully if the necessary javascript or CSS is not supported
What the plugin doesn't do:
– Automate the addition of pinyin to Chinese words (it's all manual at this point, for full control)
– Draw on any kind of dictionary data
– Convert numerical pinyin (pin1yin1) to tone mark pinyin (pīnyīn); I recommend my friend Mark's Pinyin Input Firefox Extension for that, which works fine with the WordPress HTML editor
Download away! If you install the plugin and decide to keep using it, please leave me a comment so that I can see how it looks on other sites. Thanks!
John Pasden
John is a Shanghai-based linguist and entrepreneur, founder of AllSet Learning.