---
The 100 Most Common Chinese Surnames
Names are an important type of vocabulary. Any native speaker of English can hear a name like "Stephanie" or "Tom" or "Catherine" or "John" and instantly recognize it as a name. Knowing that a word is a name can, of course, have an important impact on listening comprehension.
In Chinese, it's not the given names that draw from a general pool of "common names;" it's the surnames. There is a relatively small number of surnames which the vast majority of the Chinese population uses. So knowing what the most common surnames are can come in extremely handy.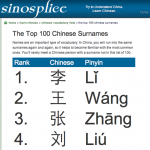 I recently discovered the website MingBa.cn (名霸), and among other name-related resources, it's got a great page on Chinese surnames, apparently from the 百家姓. It has the top 100 at the top, followed by a huge alphabetical list of Chinese surnames, including all the obscure ones (along with pinyin!).
I didn't like how the font was pretty small, and the top 100 didn't have pinyin, so I created a vocabulary list for the top 100 on Sinosplice: The Top 100 Chinese Surnames. Enjoy the huge font.
---
Related Links:
– MingBa.cn (名霸)
– Hundred Family Surnames (百家姓), on Wikipedia
– List of common Chinese surnames, on Wikipedia (lots more info, tiny font)