---
A New Resource for Chinese Grammar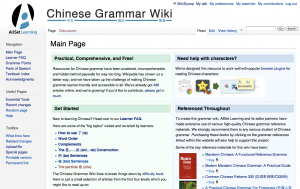 It's hard to believe I've been working on this project for a whole year, and also thinking about it, in some form or another, ever since founding AllSet Learning. Today, I'm quite happy to finally release the AllSet Learning Grammar Wiki.
What is it? Well, in a nutshell, it's a mini-Wikipedia devoted entirely to Chinese grammar. Think comprehensive, think interlinked, think referenced. I've felt for a while that Chinese grammar has needed its own champion online, and since forming AllSet Learning, I've finally got both the need and the means to make it happen and keep it going.
I won't say too much here; there's a blog post on the AllSet Learning blog introducing the features and concepts behind the Grammar Wiki. Obviously, you can also just go straight to the wiki and check it out.
There's not yet any public forum on the AllSet Learning websites, so if you've got feedback, feel free to leave it in the comments here. Please do read the AllSet Learning blog post first, though, as it may answer some of your questions. I'd also like to reiterate that the Grammar Wiki is not finished, and I'm not sure it ever will be, but with 500 articles and a good juicy set of grammar points it's now at a point where it's clearly useful to learners, so it's time for it to emerge from its cave and be exposed to the rest of the world.
Finally, I'd like to thank the AllSet Learning interns who, over the past year, have helped make the Chinese Grammar Wiki a reality: Lucas, Greg, Hugh, and Jonathan. You guys were an immense help. Thank you also to all bloggers and friends who help spread the word by linking to the Chinese Grammar Wiki. Please help spread the word!
That's all for now… Happy Chinese New Year!