Introduction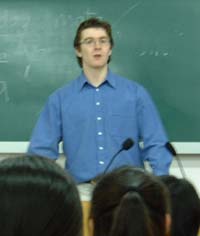 It is well known that many English teachers in China do not have real teaching experience. Many schools seem to hire foreigners to teach English merely to fulfill an unspoken qualification for "decent schools." Whether or not the foreigner they hire can really teach is beside the point; the school looks better in the eyes of potential applicants if it has foreigners teaching there.
Although I do think it's best to have some teaching experience and theoretical knowledge, I'm not going to add to this already old and tired debate. I want to address the problem that the situation creates: many foreign teachers in China don't know how to teach their students English.
When I came to China, I already had 2 years of English teaching experience. Still, I was a little unprepared for the "orientation" my school gave me when I first came to China. They handed me a book called "American Oral English on Campus" and told me to just take it away. Pretty much no guidelines at all. Class format, grading policy, course content, lesson plans – it was all up to me, and was entirely unsupervised. I was on my own. Back in the USA, I was used to having more structure. Here I had to build my own structure, from the ground up.
Since I came here with experience under my belt yet was a bit taken aback by this, I can imagine that inexperienced teachers may feel a little overwhelmed by the lack of guidelines. Some personality types cope better with this than others. Remember, though – you not only need to figure out how to "fill up the time" every week, you need to design lessons which actually teach your students something. This is, of course, the official reason you were hired, but it's also necessary if you're going to administer any kind of legitimate assessment at the end of the term. In other words, if you don't teach your students anything, how can you give them a final exam?
I'd like to address these issues here. Here are some of the questions I'll tackle in the following pages: