---
Wenlin 3.0
I finally got my hands on Wenlin 3.0 for "trial purposes" recently. Brendan at Bokane.org has been singing its praises for some time (he even co-wrote a glowing software review), so I've really wanted to try it out for some time now. I've used NJStar and 金山词霸 (Jinshan Ciba) before, so those were my references for this kind of software.
I don't intend to do a lengthy review examining every aspect of the software; I just want to do a quick comparison of the major differences between these three pieces of doftware.
NJStar Chinese Word Processor 4.35

NJStar also has a Asian language viewer, but it's been rendered pretty much completely unnecessary with internationalization advancements in Windows and other operating systems. The main draw is the word processor.
I've always found the dictionary that comes with the NJStar word processor to be virtually useless. NJStar's saving grace is its radical lookup method. It consists of a chart containing all possible radicals (and even some that aren't technically official). You click on the radicals within the character that you can identify. Here's the good part: It doesn't matter if they're the character's main radical or not. With each radical you identify, the list of possible matches at the top grows shorter until you can easily pick out the character. You can also limit matches by total number of strokes.
NJStar Chinese Word Processor's radical lookup method is the best by far of any software I have seen. Everywhere else it's lacking, however.
[Note: Available also for Japanese.]
金山词霸

(Jinshan Ciba)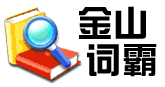 Jinshan Ciba is clearly meant for Chinese users. For this reason, beginners will find it frustrating. Instructions are all in simplified Chinese, and pinyin isn't readily available (although you can double click individual characters within the program to look them up and get a pinyin reading).
Jinshan Ciba's selling point is that it's not merely a stand-alone dictionary, but can also work in conjunction with other software. If you have Jinshan Ciba running in the background, you can set it to display little popup translations for any words on the screen. It's great for surfing the web, but works in various kinds of software as well. It does English-Chinese as well as Chinese-English, and if the short popup definition isn't enough, you can take it to the main dictionary for a more extensive definition.
Jinshan Ciba is best suited to intermediate to advanced learners. It's also most easily found on the streets of China (for less than $1). But it does have some strong points that no other software I have seen duplicates.
Wenlin 3.0

One of Wenlin's strong suits is its pinyin support, which makes it best suited to beginning students. I found it annoying how sample sentences for entries are written entirely in pinyin (no characters), but I know this is exactly what beginning students need.
Wenlin's dictionary is also superb. It provides character entries in multiple fonts, even with etymology. It includes stroke order for each character, as well as other useful features such as "list characters containing this character as a component," "list words containing this character," and "list words starting with this character." Extras such as the "components" (which can be looked up themselves, even if they are not full characters) and Cantonese reading are really cool too. The only detraction is, once again, a slight tendency to favor pinyin over actual characters.
Once text is pasted into Wenlin, it's great for looking up unknown words. It does what Jinshan Ciba does, only with a much better dictionary and a little more work.
---
In conclusion, I would go with Wenlin as my main computer dictionary, but would want NJStar if I were going to be looking up a lot of completely unfamiliar characters. Jinshan Ciba is great for casual browsing of Chinese, or if you're running a Chinese operating system and other Chinese programs for which you may need help reading.