---
Speaking a Foreign Language without Translating
Friends of mine have asked me many times: can you really speak Chinese without translating it first in your head? And when I answer yes, the follow-up question is: but how can you get to that point? I have to translate everything!
There's both an implied lie and a rather direct lie in that follow-up question.
"But how can you get to that point?"
The problem is that it's not a "point." There's no instant when you can suddenly stop translating completely. Rather, you stop translating longer and longer stretches of language. Over time, what was once long stretches of language which needed to be translated, interspersed with only occasional words you understood, eventually becomes long stretches of language which don't need to be translated, interrupted only by the occasional need for translation.
"I have to translate everything!"
Do you? Do you have to translate 你好 ("hi")? Do you have to translate 谢谢 ("thank you")? To tell someone you don't want something, do you have to consciously translate "I don't want it" into 不要? Or do you just blurt them out?
Sure, when you first start out, you have to learn these expressions, and then you do have to translate them when you first start using them. But especially if you're in the target language environment, their usage starts to become automatic quite quickly. I observed 你好 and 谢谢 becoming automatic for my parents during their recent two-week visit. They don't speak a lot of Chinese, but even they were "speaking without translating" relatively quickly.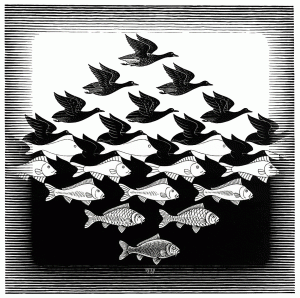 With enough practice, more and more words and phrases become automatic. You don't feel your brain shirking its translation duties; it just happens so naturally. When you finally realize it's happening, that you're starting to understand and process not just individual words and short phrases, but whole sentences without even translating them, it feels a little surreal. It's kind of like one of those Escher works. You really can't pinpoint at what point the bird became a fish.
But the truth is, if you've been not just "studying," but using your language skills for any length of time, the ebbing of conscious translation has already begun. If you try, you can sort of feel it. It's this weird sensation called "fluency" creeping up on you, ever so subtly.