---
Chinese Lyrics (with Pinyin) for Christmas Songs
by John Pasden
08

Dec 2011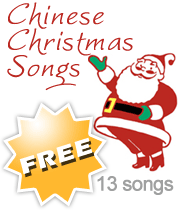 Sinosplice's Christmas Songs in Chinese have been popular every year around this time for a while now, and one of the most common comments let has been, "can you provide the lyrics in pinyin?" Well, it's actually quite a lot of work to assemble all the (correct) lyrics, which is why I hadn't done it before. This year, however, I decided to leverage some of AllSet Learning's resources and finally make it happen. (They may not be perfect though, as some songs were manually transcribed, and the audio was a little unclear. So if you catch any errors, please leave a comment, and we'll update ASAP.)
So for the MP3 audio, go to the original Christmas Songs in Chinese post. For the lyrics (simplified characters and pinyin), download here:
Christmas Songs in Chinese lyrics (1.2 MB ZIP file containing PDFs)
Note: Some of these songs (especially the religious ones) do not have easy lyrics! Think twice before you try to use some of these songs as study material.
Merry Christmas!
John Pasden
John is a Shanghai-based linguist and entrepreneur, founder of AllSet Learning.