---
Why Chinese Needs Post-Apocalyptic Steam Punk (with Dinosaurs)
At some point or another, many learners of Chinese here in China get the brilliant idea to buy Chinese children's picture books and use them to learn Chinese. Genius, right? It's got pictures, it's for kids (so it's gotta be simple), and it's a story! What could go wrong, right?
You see, at the really low levels, China's children's books contain big, clear, colorful pictures, characters with pinyin, and sometimes even English. While these can be nice, they're essentially pictorial flash cards in book form. If that's what you're looking for, they're great, but they're not stories.
As soon as you jump from "vocabulary books" to "story books," however, something magical happens. "Magical" in the "holy crap, I've been studying Chinese for over two years and I can hardly read any of this book written for a 6-year-old" sense. One definitely gets the impression that these books are written not for the enjoyment of the young reader, but rather as the embodiment of the discovery that, "if we put pictures in these books, maybe we can trick even little kids into studying more characters and vocabulary in their free time."
End results: (1) they're way too hard for the typical Chinese learner, and (2) they're not actually that interesting either.
One could be forgiven for thinking that maybe story books in electronic format are better. Sadly, they're usually not. There are bilingual story books on the iPad, but most of them seem designed with the idea that either you want to read/listen to the story in English or in Chinese, but never both. As a result you have to start the whole story over if you want to switch languages. (And you may not even get pinyin, or have no option to hide it.) Not very learner-friendly.
Oh, and even on the iPad, there's way too much of the 成语故事 (4-character idiom stories) mentality going on. In other words, "Oh, you want to learn Chinese through stories? OK, but only if the whole point is to memorize an obscure idiom. None of this time-wasting 'using the language for your own enjoyment' nonsense."
But I'm writing this post not just to complain about a lack of stories. I'm writing to report that I actually did something about it. I created an app that houses interesting stories. Not "slight variation of the status quo" stories, but something radically different. I mean, one of the stories literally takes place in a post-apocalyptic steam punk world. With cyborg dinosaurs. And it was drawn and co-created by a local Chinese artist. (Ssshhh, don't tell him that the Chinese are not known for their creativity.)
I think I did this partly to prove to myself that it could be done. (It turns out the Chinese language itself is not averse to fresh new story settings.) But also, this industry needs to break out of its 5,000-year-old mold and recognize that modern learners want more options. Sure, maybe "post-apocalyptic steam punk (with dinosaurs)" is not exactly the rallying cry of bored students of Chinese across the world, but this is a start.
So even if "post-apocalyptic steam punk (with dinosaurs)" isn't your thing, even if "cute dogs causing chaos in the park" isn't your thing, even if "the thoughts, voices and handwriting of modern Chinese college kids" isn't your thing, I would at least hope that more interesting options for studying Chinese is your thing. And for that reason, I ask you to please try out the new Chinese Picture Book Reader for the iPad. (The app is free.)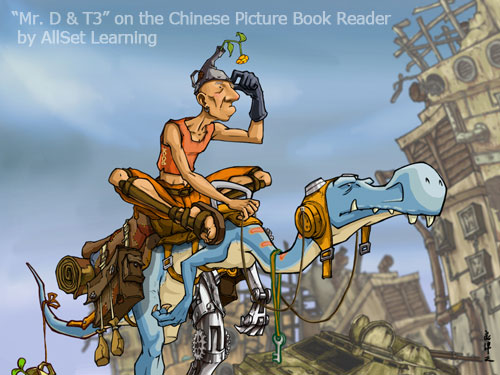 Thanks, everybody!