---
If You Could Ask Chinese College Kids Anything…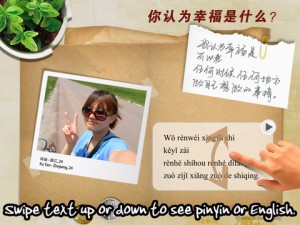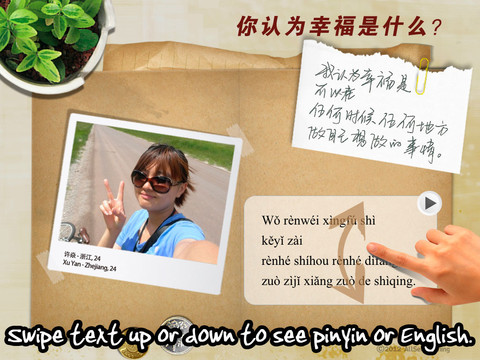 The AllSet Learning Chinese Picture Book Reader iPad app comes preloaded with several free "books." Although I immensely enjoyed creating a story involving post-apocalyptic steam punk dinosaurs, in some ways those free books were the most interesting. That's because the content of each book is a simple interview question which is then answered by 10 different Chinese college kids. They're all studying in Shanghai, but they come from all over China. You get to hear each young person's own voice, see their photo, and even read their actual handwriting (in characters), which is also accompanied by text. This is a lot more interesting than most textbooks the kids are using these days! Through this app, it's my hope to show a diverse, modern side of China's youth, different from other sources.
We've aimed for intermediate level learners in the past, but we would consider doing simpler or more difficult questions. The interview questions already included in the app are:
1. 你最喜欢吃什么? (What do you most like to eat?)
2. 谈到美国,你第一个想到的是什么? (When speaking of the USA, what's the first thing you think of?)
3. 你认为幸福是什么? (What do you think happiness is?)
And this is the part where I ask you, my readers, what types of questions you'd like us to ask for the next round of interviews. The questions need to be relatively short, and somewhat open-ended, but nothing requiring an essay to answer. It's OK to get just a little bit into the human side of politics (One Child Policy, etc.), but we're not going to do any particularly inflammatory topics, or topics that could get the interviewees in trouble.
So what questions would you like to see covered in the Chinese Picture Book Reader? Please share in the comments, or drop me an email if you like.