---
---
Zhuyin (also called "bopomofo") is a system for writing Chinese phonetically, instead of using, say, pinyin. It's pretty much exclusively used in Taiwan, but it's quite popular among a minority of Chinese learners. The first time I saw it, I thought it looked like "bizarro kana," as some of the symbols are similar to those used in Japanese. Some symbols also look like Chinese character components. It looks like this: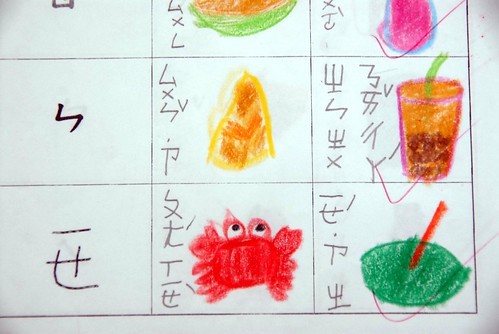 Mark of toshuo.com recently released a program called Zhuyin King (注音大王), which is still in its early stages, but aims to provide all the support one needs to fully master zhuyin.
When Mark made a post on Reddit, he was challenged with the question: why in the world would you learn zhuyin instead of pinyin? (A fair question.)
The best answer Mark gave was this one:
> When reading books annotated with pinyin, it's very easy for the familiar Latin alphabet to draw your eye, even when you don't need it. With zhuyin, westerners often tend to stay focused on the characters until they hit one they truly need help with… and then they look at the zhuyin beside it.
This is a big problem with a lot of Chinese learning materials: pinyin is featured too prominently, making it virtually impossible to ignore even if you really do want to focus on the characters before "cheating." Zhuyin allegedly solves this problem.
Still, if you're studying (or planning to study) Chinese in mainland China, no one uses anything but pinyin. So you have to wonder: who should be interested in zhuyin?
My answer:
1. Anyone planning to study or work in Taiwan (not mainland China) should learn zhuyin
2. Anyone that already knows some Chinese but plans to move to Taiwan for more than a month or two should learn zhuyin
It's not that no one uses pinyin in Taiwan (more and more people do), or that you can't get by without it (you certainly can); it's that only if you learn zhuyin can you have the "no cheating" advantage listed above. (Mark estimates that the number of learners of Chinese is "about 15% for foreign students and most of them are either learning in [Taiwan] or 2nd generation [Chinese]."
If you're just interested in browsing the zhuyin symbols, check out AllSet Learning's pinyin chart. Click on "Show more Settings" and you can choose to display zhuyin for every pinyin syllable:
---
Related Links:
– Wikipedia: Zhuyin (Bopomofo)
– Chinese Pronunciation Wiki: Zhuyin
– Chinese Pronunciation Wiki: Pinyin chart (with zhuyin support)
– Hacking Chinese: Learning to pronounce Mandarin with Pinyin, Zhuyin and IPA: Part 2
– Zhuyin King (注音大王)
---
---